Mattress Protector With Straps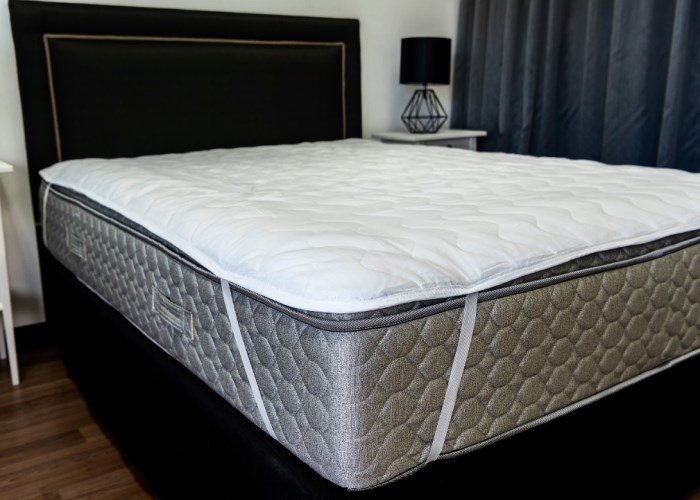 Made from a durable and soft to the touch 100% microfibre fabric cover. Our mattress protectors are one of our best-selling items within our product ranges. 
Life can be made easy when using microfibre quilted mattress protectors, as microfibre will not go out of shape like 100% cotton fabrics can — no more hourglass protectors on your beds! 
Most stains could be easily removed from the microfibre fabric, leaving you with a clean, possible stain-free protector for your beds. 
Specifications
Material 100% Microfibre fabric on both the top and bottom of the protector with an impressive diamond stitched design
Fill 100gms Polyester
Fastener Four durable elastic corner straps with reinforced stitching
Sizes Single, King Single, Long Single, Double, Queen, and King
Please note all sizes and weights shown are approximate.
What is Microfibre – a synthetic fiber, finer than one denier or thread, having a diameter of less than ten micrometres, smaller than the diameter of a strand of silk. Most common types of microfibers are made from a blend of polyesters and polyamides. The combinations of synthetic fibers are selected for specific characteristics, including softness, toughness, absorption, and electrostatics, filtering capabilities.
CARE INSTRUCTIONS
Warm wash using a mild liquid/ powder detergent, avoid adding bleach or whiteners to the wash, tumble dry on a low heat/cool setting – as microfiber fabrics are quick drying
Avoid high heat settings or over drying as this will weaken the fibers causing shrinkage, breakage and burning of the fabric which can shorten the life of the item. 
 This strapped mattress Protector features a soft and smooth polyester sleep surface and a waterproof breathable backing. Will help protect your mattresses  from spills and stains.
Machine wash and tumble dry to 65 degrees. 
Mattress protectors available 
Single:92x188cm
Extra Long Single:92x204cm ideal for king zipper mattresses
King Single:107x204cm
Double:138x188cm
Queen:152x204cm
King:183x204cm