Protect.A.Bed Elite Tencel Waterproof Mattress Protector
The Elite Tencel waterproof mattress protector is ideal for people with sensitive skin, rhinitis, or eczema. It has a silky smooth, soft, natural sleep surface which is cool to sleep on and provides a healthy and anti-allergy sleep zone. Both top and sides of mattress are protected as the Elite Tencel Mattress Protector is fitted with the Miracle Membrane backing, which provides a waterproof, stain-proof and allergy-proof barrier from dust mites and allergens. This is ideal as a Eczema mattress protector, asthma or allergy protector or for those how suffer from night sweating. They protect your mattress from spills and stains, and you and your family from the allergens caused by dust mites, mould and bacteria.
What is Tencel?
Tencel: Silky smooth and cool. Made from odourless wood-based fibres, it stays cool in Summer, and warm in Winter. Supported by the Eczema Association as Sensitive Skin Tried and Tested. Tencel fabric is an amazing eco friendly fabric. Tencel is man made from natural Eucalyptus based fibre containing no pesticides or agricultural chemicals making it the perfect fabric for those who suffer from allergies or skin problems. Tencel is one of the most versatile bedding textiles available.  It is as soft as silk, feels cooler, absorbs more moisture and reduces bacterial growth. For complete pillow protection we have the Elite Tencel pillow protectors.
Why should we use waterproof mattress and pillow protectors?
FACT: Every night the human body loses approximately a litre of body fluids through the skin pores and mouth, as well as millions of skin flakes, which are absorbed into your mattress and pillows, creating the perfect breeding ground for bacteria and dust mites (a major cause of Asthma, eczema and rhinitis.)  Waterproof protectors are not just for bed wetting or incontinence problems but will keep your beds in pristine condition. Your beds are a huge investment so it makes good sense to protect them with waterproof protectors.
As many as 2 million dust mites have been counted in unprotected mattresses and it only takes 4 months for an unprotected mattress to become infested. It is not the dust mite that most people are allergic to, it is their fecal pellet they leave behind. The dust mite pellet has been responsible for extensive allergy suffering and numerous asthma related deaths
Note: If you are not using waterproof  bedding protectors, you are leaving your mattress and pillows open to staining and hygiene problems.
 Features:
Made from Tencel Fabric, Chemical & pesticide free.
Ideal for sensitive skin and eczema.
5 sided mattress protection (top and 4 sides)
silky smooth TENCEL® sleep surface.
Machine wash and tumble dry safe
Safe to use on electric blankets(under or over)
Fits all standard and extra deep mattresses.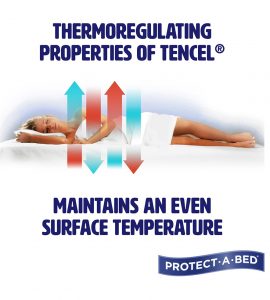 VIDEO: Tencel mattress protector